pqs250About Us
Foxes and Fossils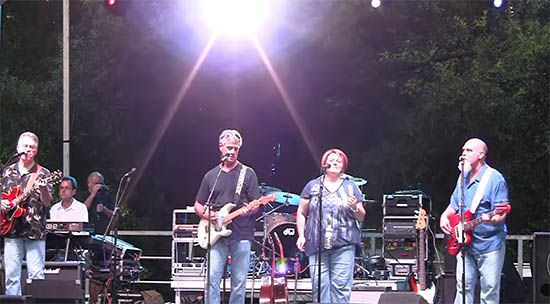 On a cold, rainy January day I was sitting in my sweatpants, playing my guitar, bemoaning the fact that my band, The Mustangs, had just experienced one of our worst holiday seasons ever. In a typical year we'd make at least a quarter of our annual income in November and December. Holiday parties and New Year's Eve were steady sources of big money. That season (2009) I think we had two jobs. Feeling sorry for myself, I was killing time picking around on some melancholy tunes. Strumming the chords to Paul Simon's "America" I looked over to my then 15-year-old daughter Sammie and asked her if she'd ever heard the song. She said no so I pulled it up on the Internet and let her hear it. Having inherited great taste in music from her dad (me), she, of course, loved it. Looking for anything to do on such a dreary day, I jumped up, went downstairs to the studio and laid down a rhythm track and lead vocal. When I was done I somehow convinced Sammie to come down and fool around with those intricate Garfunkel harmonies. I am so glad I did.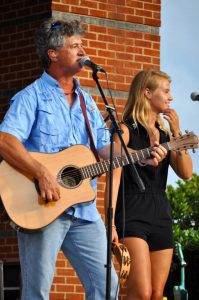 All of my daughters are talented but I guess Sammie was lucky to be the last one at home. My oldest daughter Rachel who is also a very fine singer really didn't have a chance to do something like this with me because of the demands put on me by a house full of kids. Rachel's forays into musical theater, piano and singing had a big influence on Sammie. Rachel currently performs with the Atlanta based all-female a capella group "Octave."
I'd had a home studio for years and recorded all of my girls at one time or another so this wasn't the first time Sammie and I had sung or recorded together but it was the first time I ever thought about putting an act together with her. The idea took root and began to grow. What if we added a few more pieces; a better guitarist, maybe a bass? What if both were good singers? The more I thought about it I began to realize that this might be my chance to put together that strong vocal ensemble I had always dreamed of.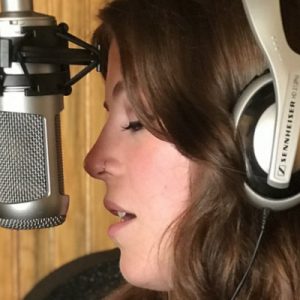 I 'd heard Maggie Adams sing at our church since she was 7 years old. I was always impressed by her accurate pitch and remarkably pure tone. I was disappointed if her choir performed and she didn't solo. Maggie and Sammie were a year apart and that often meant they were in different age group choirs. They never really got to sing together until they were teenagers and even then it was rare. One morning in January of 2010 Sammie and I were eating breakfast at the "Chic-Fil-A" when I saw the now sixteen-year-old Maggie hanging out with her friends. Much to Sammie's embarrassment (after all, I am her dad) I decided to approach Maggie and ask her if she'd like to form a band with us. Thankfully she responded with a nonchalant "sure." I set up a "rehearsal" for the next week.
I was like a kid at Christmastime. I so looked forward to getting together with Maggie and Sam. I picked a couple of songs for us to try, parsed out the parts and waited. The day finally came. I set up my studio for rehearsal., giving both girls a mic and a set of headphones. I passed around lyric sheets, tuned my guitar and took my place. We started to sing. I'm sure the girls wondered why after just a minute or so I abruptly stopped, but it's hard to sing while you're crying. The sound was so beautiful it literally choked me up. With chills running down my spine I kept asking, "girls did you hear that!?!" They both looked at me like I was crazy. I was awestruck by the potential.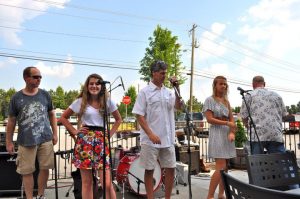 I've been doing the music thing for years and have worked with countless people who thought they could sing (I once had a girl tell me she had a six-octave range!). How refreshing it was to see no "diva" in these incredibly talented girls. Seldom did they need direction and when they did it was usually just a brief discussion followed by perfection. I couldn't wait to get out and perform with them. Filling out the slots in my dream band, I asked my friend Darwin to join us. Dar and I grew up playing and singing together in high school and for a bit after college. We split up in our mid-twenties and went our separate ways but always remained friends. The boy can play and sing. He was intrigued by the idea of a generationally mixed project and agreed to give it a go. Rounding out the first incarnation of F and F was my Mustangs bandmate and close friend Scott King. A better bass player never walked the earth. He also plays ukulele and mandolin. Scott was invaluable as a singer after Darwin's (2011) departure. I found a venue and we began preparing for our first gig.
Thinking ahead (for one of the few times in my life) I asked a friend of mine, Terry Heinlein, who has an avid interest in both music and video, to record our first show. He graciously agreed. With his three-camera shoot and the ability for us to record single tracks from each instrument and voice, I was able to mix the recording and synch it to the video to produce a product that was so much better than I ever dreamed possible. Each ensuing year Terry would video one of our summer shows from which I would post the best performances. Our collection of songs on Youtube steadily grew.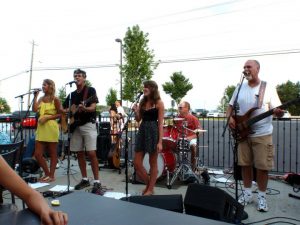 Foxes and Fossils played maybe 3 more jobs in the summer of 2010. The girls' moms frowned on gigs during the school year and that was ok because my other band, The Mustangs still had enough festival and club work to keep us occupied. Then, as the summer of 2011 rolled around we had a different issue to work through. Darwin (don't blame him a bit) had begun working with a couple of other groups that had scheduled jobs out into the summer. Some of them conflicted with F and F offers. Neither of us wanted to inhibit the other's chance to work so we had to find a solution. Easy enough: Ask Toby. He graciously agreed ("I'd love to be a Fossil"). Shortly thereafter we asked the lovely Johnny Pike if he'd grace us with his presence on the drums. He also jumped at the chance. We now had four Mustangs in F and F.
As time flew by, we all knew the day would come when first Maggie and then Sammie would be leaving for college. The last Foxes and Fossils show we did in 2012 features a couple of references to Maggie leaving. Particularly emotional was Sammie changing the lyrics in the last chorus of "The Night Before." You can see Maggie's shocked reaction. "Helplessly Hoping" was also recorded that night. Maggie left the next day for Nashville. We endeavored to keep the band going during the months Maggie was home from college. It would prove to be a challenge.
During the summer of 2014, F and F had some higher-paying jobs that were worth asking Maggie who had a summer job as a restaurant hostess in Nashville and an internship on Music Row, to make the drive to Atlanta. Problem was that not all of the jobs were high paying. We had 6 band members and a soundman to pay. Was $50 worth a missed shift and seven hours of driving for Maggie? It just didn't seem right. After that summer we were giving serious thoughts to putting Foxes and Fossils to bed.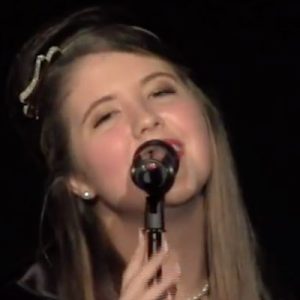 I had long said we could never replace Maggie or Sammie and that when the time came that either of them couldn't continue we'd call it quits. I was totally prepared to do that when Scott suggested we talk to a girl we'd seen perform at a high school revue the year before. Her name was Chase Truran. She was a student of Amy Wallace, The Mustang's incredibly talented female lead singer and Director of Fine Arts at North Cobb Christian School. Thinking it would be a long shot, we got in touch with Chase's parents (through Amy). We found out later that both her mom and dad had played music professionally for years. They even met while playing in a cruise ship band. To our delight, they were happy to have Chase "try out" for F and F. What a joke. We should've been trying out to be in Chase's band. Keep your eye on her. She has a real chance to do something big. I have never been so impressed by anyone I've seen in flesh and blood. The girl has real pipes.
So that's kind of where we are right now. We 're all getting a little older and the girls are all moving ahead with their lives. We now have members living in five different states but by virtue of some good luck (the girls were all home one weekend late last summer) and the miracle of the Internet, we can still be a band and make new music together. Most of you have seen the video of "Suite Judy Blue Eyes" that was recorded at Bella's in March of 2010. That video led the way. It now (winter 2020) has 3.3 million views. It has served as an entree to Foxes and Fossils for people from all over the world. With no promotion other than word of mouth and folks sharing with their friends, our site is rapidly approaching 50 million views. Over half of those views have come this past year (2020). We hope to continue to make new music and to share it with you for years to come.