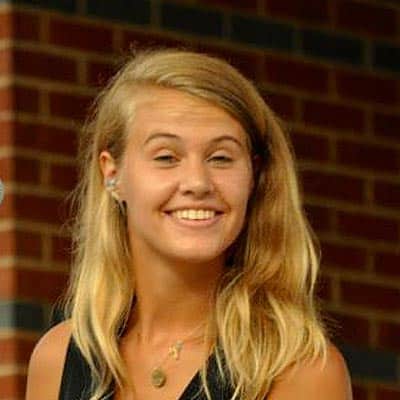 SAMMIE PURCELL: Vocals
I've always loved music. When your dad is in a band, it's hard not to. But, as a kid, I didn't really gravitate towards his kind of performance. From the moment I played Gretl in the Sound of Music at five years old, my passion was musical theater. All through middle school, high school, and well into college, musical theater was my getaway from reality. It was difficult, fast-paced, and fun, and I loved the feeling of being on stage. It was also, in my opinion, where the most interesting and rewarding music could be found. My dad will disagree with me on this, but I fell in love with Sondheim early on – the harmonies, the music, the lyrics – it was all un-beatable in my eyes.
So, when I was 15 and my dad asked me to sing harmony on a little song called "America," I didn't really think twice about it. When we had our first show at Bella's Pizzeria, I was nervous but didn't really think anyone besides my friends and family would ever see it. I always thought if I were to end up getting any recognition for music, it would be through theater. How wrong I was. I could have never guessed how much recognition the Foxes and Fossils would get, but I'm so grateful for the opportunities I've gotten and how much joy the band has brought everyone.
I'm now in graduate school at Boston University, earning my master's in journalism. Hopefully, I'll be able to keep doing Foxes and Fossils stuff on the side for a long time.